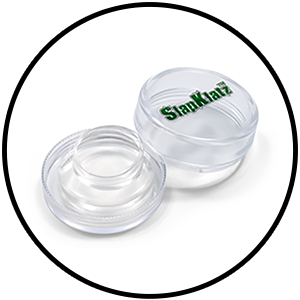 SlapKlatz
The original - and ever popular - SlapKlatz 4-pack. This is where it all started. This package contains 2 medium and 2 large sized gels, in a small and pocket friendly container.
With the 4-pack you get the basic gels you need, in order to control a standard 5-piece drum kit: Your snare, your two rack toms as well as your floor tom.
These SlapKlatz will work on both your batter and bottom heads. You can even use SlapKlatz on top of - or under - your cymbals.
SlapKlatz is also great for dampening different percussion instruments - like cowbells and timbales.
SlapKlatz are known for their stickiness, which allows for a long list of different applications.
In the package
You get 2x medium (3 cm.) and 2x large (4 cm.) gel pads in this package.
The 4-pack is available in both Clear and Alien Green.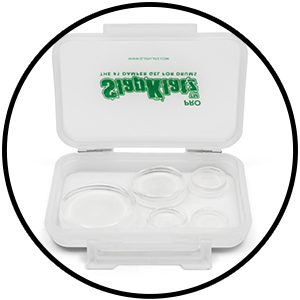 SlapKlatz PRO
Our PRO product line - the SlapKlatz PRO - offers you a broader selection of damper gels, as well as a wider selection of colors to chose from.
Not only will you get a total of 10 gels. The PRO pack also offers 3 different gel sizes, making this pack the most versatile and useful drum damper kit available on the market.
The PRO pack also offers you a more rugged and waterproof container, that will survive the touring life of a proffessional drummer - without a sweat!
With this dampening kit you really can do it all. The small gels (2 cm.) gives you an enhanced way of dampening, using several smaller gels (distributed evenly around the drum head), rather than just one large gel. This allows for a much better feel, as well as a more natural tone.
In the package
You get 6x small (2 cm.), 2x medium (3 cm.) and 2x large (4 cm.) gel pads in this package.
SlapKlatz PRO are available in Clear, Alien Green, Black and a Pink (Anika Nilles Edition).