What is SlapKlatz?
SlapKlatz makes what we believe is the most versatile drum dampeners on the market.
These drum gel dampeners lets drummers easily remove, control and handle unwanted ring and overtones from their drums and cymbals, without sacrificing the tone or the playing feel.
Simply place one of the provided drum gels on the head of the drum – and you are done!
Easy to remove or re-adjust, fine tuning is easier than ever, making the desired drum sound achievable in seconds!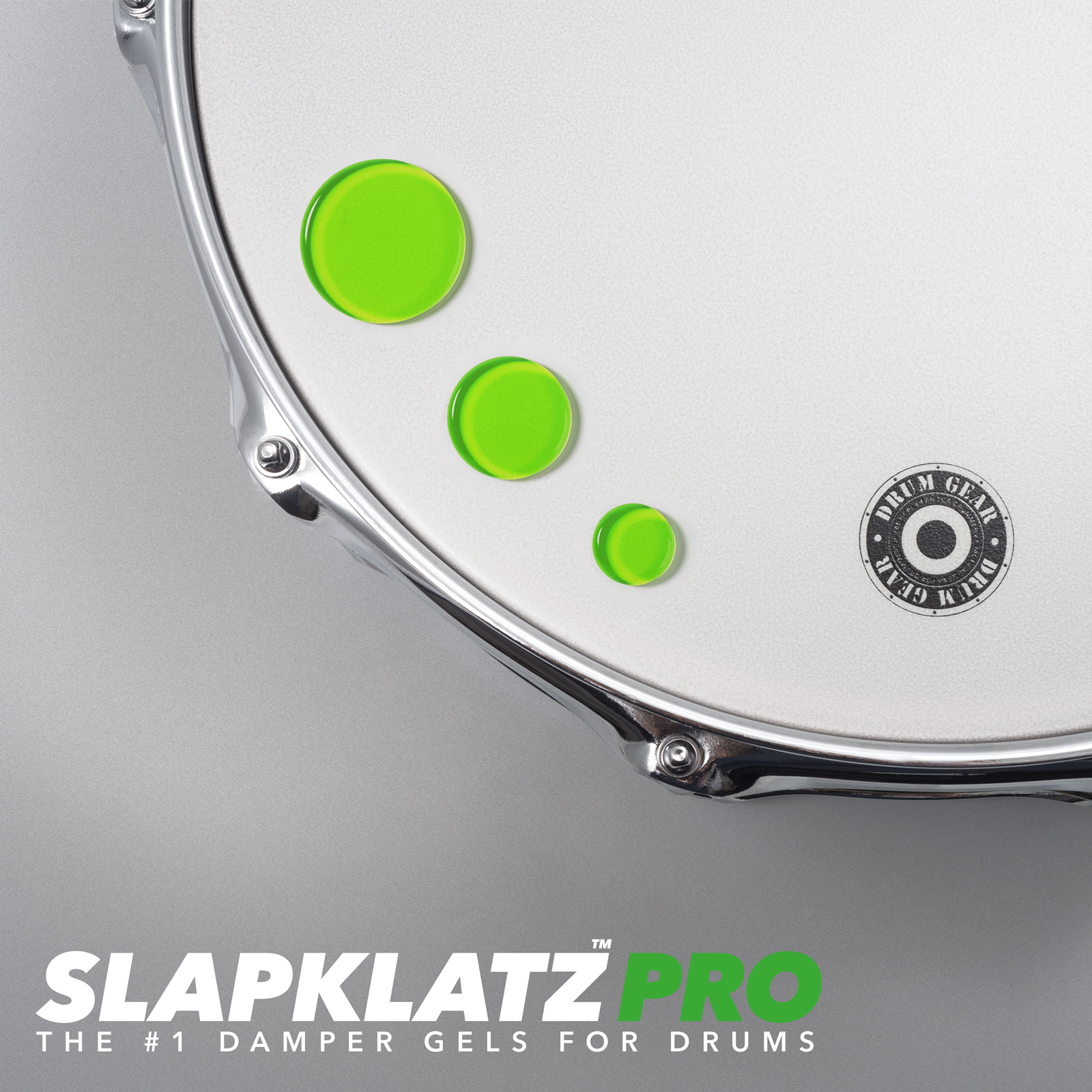 In order to make the best drum gel dampeners, there are a few things that has to be done right.
Material
First up is the material. Our gel is developed to be extremely sticky. This enables our dampeners to stay on the drums, no matter where you put them. These dampeners even stays on your bottom heads – or the underside of your cymbals for that matter.
Selection
Next up is size and thickness. This is very important. We have spend so much time testing this, making sure that the individual gel has the right thickness and size, in order for any drummer to archive the dampening needed.
SlapKlatz PRO gives you everything a professional drummer needs, in order to control and improve the sound from his or her drums. This has been verified by customers reviews over and over again.
SlapKlatz is available in several colors and configurations, so we encourage you to see the complete product range here.
Reviews
Many customers has reviewed our products over time. Below you will find a few quotes.
Link to Amazon Review
I really like these! The sizes are great and give good advantage over having to cut pieces of other brands. Great storage case. Stay where you put yhem and are descret and stay out of the road!
Best I've used
Link to Amazon Review
I opted for Slapklatz over moon gel because I liked the different size options and the clear color. I'm a convert to Slapklatz. I highly recommend them. (read the full review via this link)
Love!
Link to Amazon Review
Second time purchasing these – I absolutely love them. The different size gels make it super easy to get the level of dampening you need for each drum. And it doesn't hurt that they're pink. Highly recommended!
About SlapKlatz
SlapKlatz is designed in Denmark by
gKompagny
Genforeningspladsen 20
2400 Copenhagen NV
Denmark
VAT DK 28945930
Phone: +45 26 810 910