John JR Robinson Biography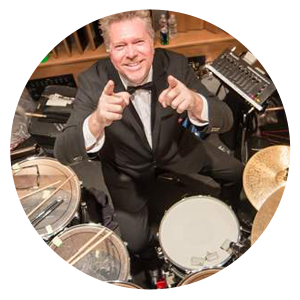 John Robinson is a legend. He has now even surpassed the great Hal Blaine, and is now the most recorded drummer in history. And the list of songs that John has tracked, is massive! Take a look at JR own list for yourself – right here.
John was born in Creston, Iowa, in 1954. He started out on piano at age 5, and on drums at age 8. Throughout junior and senior high school, John attended manu music camps. After that, he chose to attend Berklee College of music in Boston, where he was introduced to all kinds of music.
In 1978 John was touring with his own band, when he got his break. Rufus and Chaka Khan discovered his abilities behind the drumkit, and within a few weeks, John har moved to Los Angeles, to finish the 1978 Rufus world tour.
In the late 1978, John was introduced to producer Quincy Jones. That led to the recording of Michael Jacksons Off the Wall, and ever since that record, the phone has never stopped ringing.
John has also released two CD's in his own name: Funksui (2004) and Platinum (2010).
Country of origin
USA
Personal Website
www.johnjrrobinson.com
John on SlapKlatz
"They are the best…"

SlapKlatz Interview
10 of JR's biggest hits